Sale price
$63.00
Regular price
$79.00
Unit price
per
A necklace that features one genuine raw crystal and its powerful energetic property.
Size & Materials

Each crystal is completely raw and therefore, unique (size, color, and form will vary)

Chain: 50cm stainless steel chain. Lobster clasp

Crystals: Genuine, Earth-made gemstones ethically sourced from South America partners with approx. 1"-2"

Crystals Weight: Each crystal weighs approx. 0.4-0.8 oz
Shipping

All orders are shipped from Chapel Hill, NC. Orders take on average 1-3 days to process.

Domestic/US Orders: 3 to 7 days on average. Free for all purchases.

International Orders: 7-14 days depending on location. Free for orders over $100.
Returns

If for some reason you are not 100% satisfied with your orders you can return you item free of charge, stress-free.
Share
View full details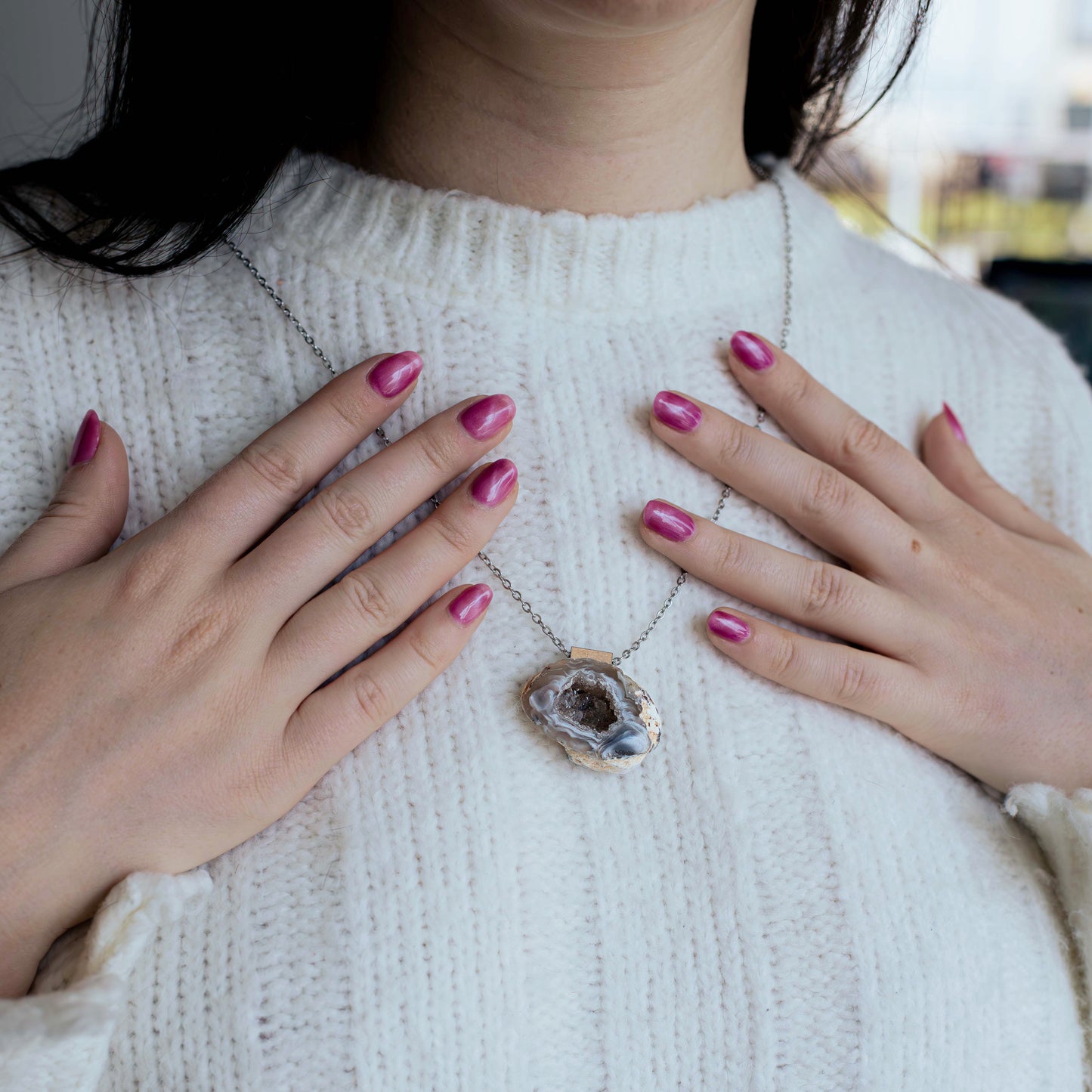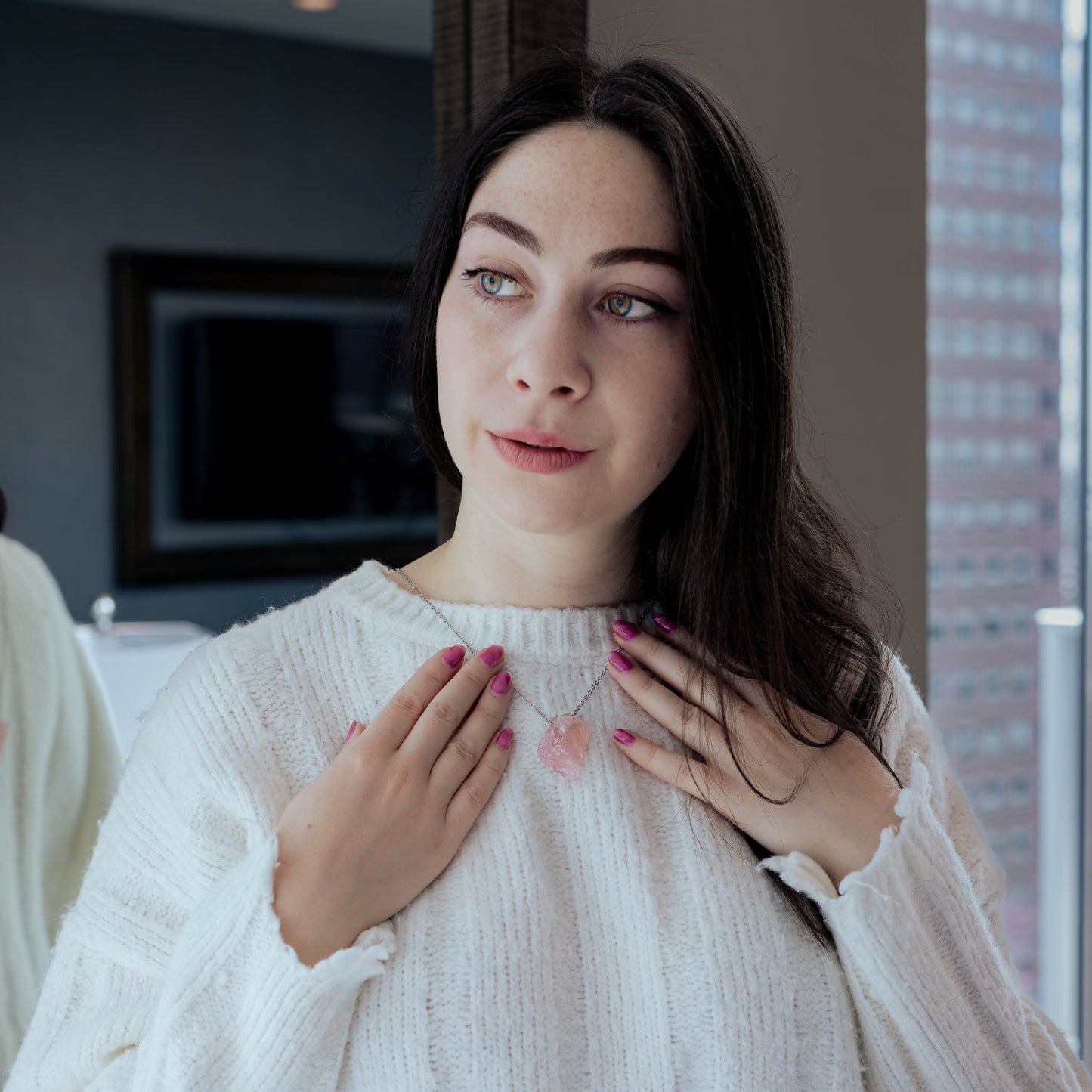 Ephemeris Vibrational Necklace
Manifest your dreams and elevate your spirit with this handmade, highly vibrational crystal necklace. Meticulously crafted with ethically sourced crystals from South America, each necklace is a unique fusion of nature's power and expert craftsmanship.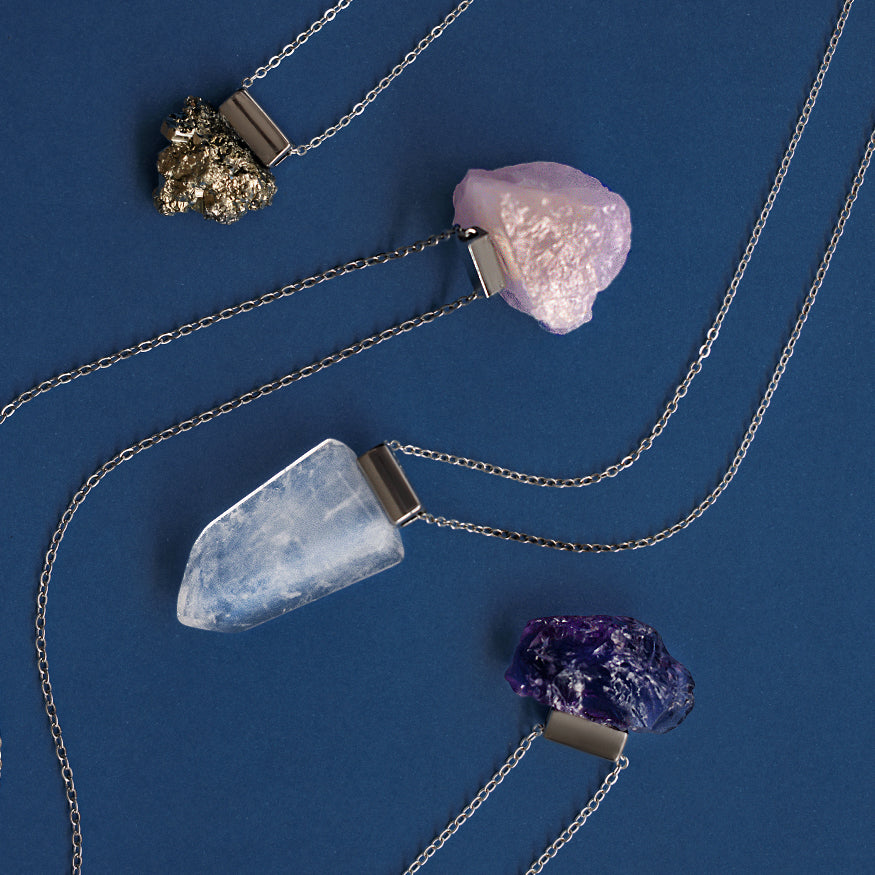 14 Crystals & Properties
Elevate your presence, adorn your soul. The Vibrational Necklace opens a portal for you to channel the energies that resonate most deeply with your intentions. With a selection of 14 powerful crystals, each brimming with their own unique vibrational properties, you hold the power to invite precisely the energies you seek into your life's tapestry. Let this necklace become a talisman of intention, a bridge connecting your aspirations with the mystic currents of the universe.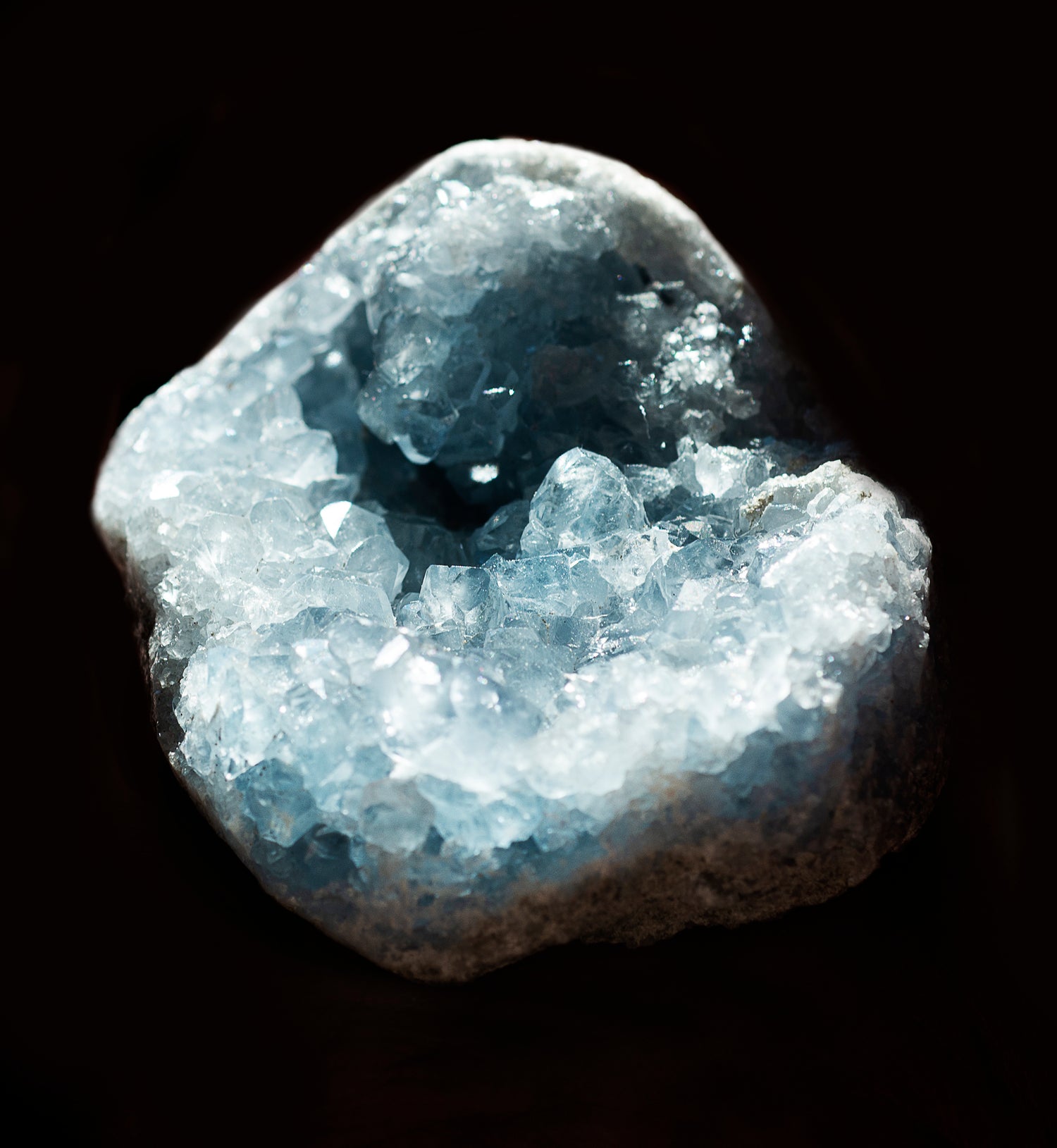 Gemstones from South America
Our crystals are not just beautiful but also ethically sourced. We believe in maintaining integrity in our production process. Thus, we ensure our gemstones are authentically obtained from trusted mines of South America, where they are abundantly found. These mines strictly adhere to responsible sourcing practices, protecting the environment and ensuring the miners' rights and safety are honored.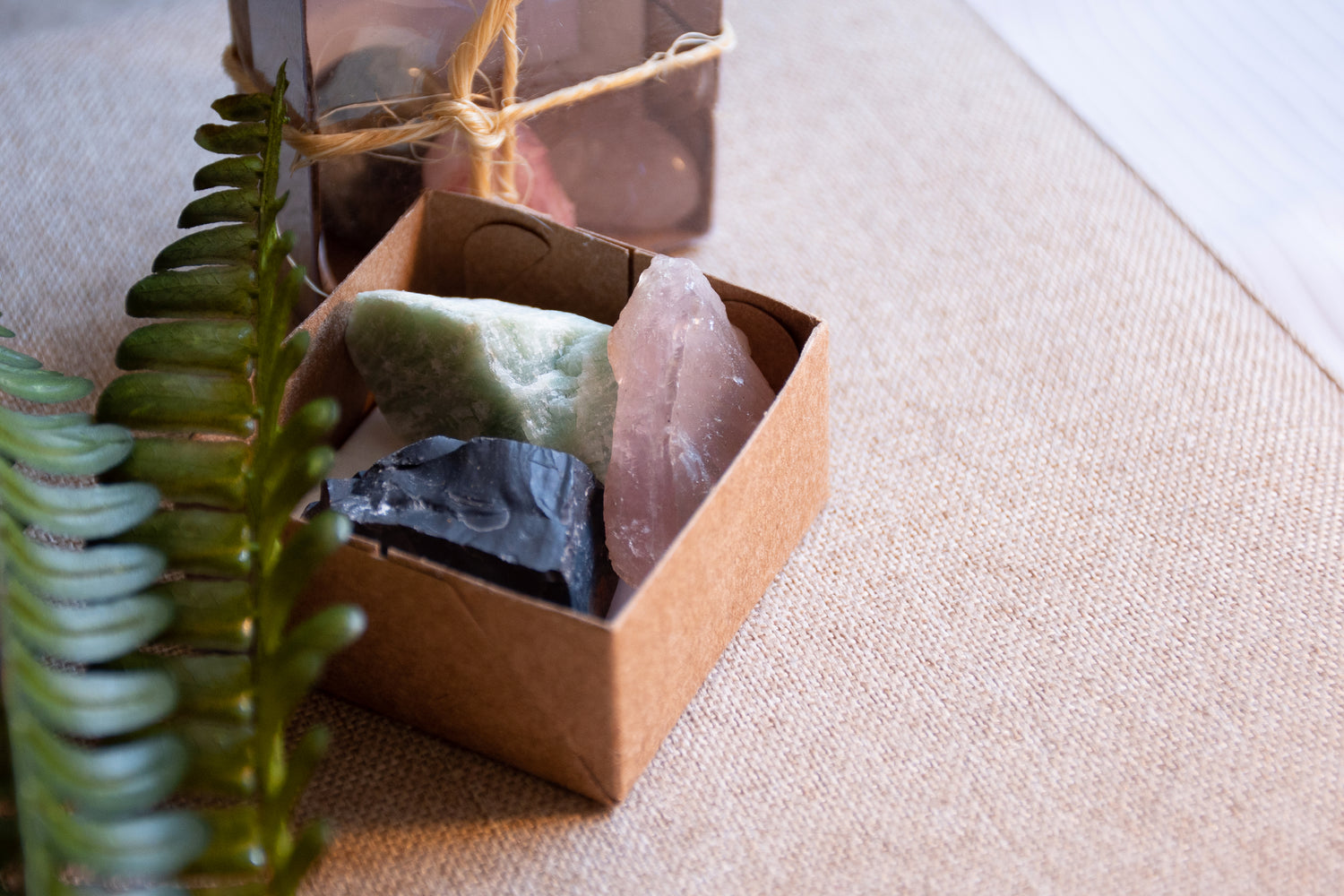 Handcrafted with intention
Each necklace is meticulously handcrafted by skilled artisans in the United States. The creation process is not just about the physical assembly but also a heartfelt practice. We channel positive intentions and energy while creating each piece, infusing it with love and care. This, we believe, makes the jewelry more than just an accessory; it becomes a personal talisman.
The Crystals
Orange Calcite

The Orange Calcite is known for its properties to enhance creativity, encouraging positive energy and promoting a sense of wellbeing.

Blue calcite

Blue Calcite is a very powerful stone when it comes to calm emotions, offering mental and etheric protection.

Rose Quartz

The Rose Quartz is recognized as the stone of universal love. It promotes deep inner healing and feelings of peace.

Agate

The Agate gemstone is known to promote soothe and calm, while also stimulating and energizing the mind.

Transparent Quartz

Transparent quartz is known for its ability to clarify, cleanse, and amplify energy. In feng shui, clear quartz is good for strengthening the effect of other crystals.

Amazonite

Amazonite enhances communication and soothes emotional trauma, facilitating constructive expression of thoughts.

Pyrite

Pyrite is a powerful protection stone that shields against negative energies, promoting strength and vitality.

Blue Quartz

The Blue Quartz enhances communication and clarity, ensuring a calm and peaceful emotional state.

Citrine

Citrine has the power to awaken the solar plexus chakra, helping to cultivate confidence, self-healing and inspiration.

Emerald

Emerald embodies the energies of unity, compassion and unconditional love, promoting friendship and balance between partners.

Black Tourmaline

Black Tourmaline is a protective stone that repels and blocks negative energies while promoting self-confidence.

Tiger's Eye

Tiger's Eye carries a powerful energy that can help to improve focus and concentration and helps to release fear and anxiety.

Amethyst

Amethyst is considered a spiritual growth and enlightenment stone. Its energy helps yout to move beyond your limitations and transform spiritually.

Fuchsite

Fuchsite infuses the heart with love, injecting joy into the wearer's life, and aiding in emotional healing.